Heavy Rain Possible for the Outer Banks of North Carolina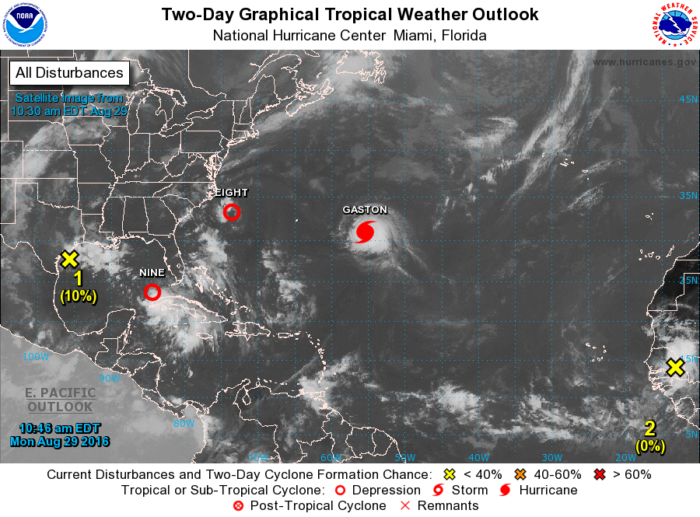 The Outer Banks of North Carolina could see heavy rainfall over the coming days thanks to a disturbance in the Atlantic. Tropical Depression Eight was about 180 miles southeast of Cape Hatteras, NC with maximum winds of 35 mph as of the 11 AM update issued by the National Hurricane Center. This depression is moving northwest at about 7 mph and is expected to make a more northerly turn on Tuesday. By late Tuesday, TD 8 will be near the Outer Banks of North Carolina where Tropical Storm Watches are in effect from Cape Outlook to Oregon Inlet.
Locations in the Watch area could experience Tropical Storm force winds by late Tuesday afternoon as well as heavy rain. Most spots are forecast to pick up 1-3″ with a few isolated amounts of 5″, especially towards the Outer Banks. Localized flooding will be possible.
Elsewhere in the Atlantic, we're continuing to monitor a few other areas of interest. The first is Hurricane Gaston which is sitting approximately 560 miles east of Bermuda and currently poses no threat to land. Another disturbance is Tropical Depression Nine. TD 9 is 170 miles southwest of Key West, FL and is moving west at about 7 mph. This depression is forecast to strengthen over the next two days and could possibly become a Tropical Storm tonight or tomorrow. At this time, heavy rain over parts of Cuba and Florida looks to be the primary concern. Widespread rainfall of 4-8″ over Cuba is expected with some isolated locations picking up nearly 12″ by Wednesday. For southern Florida, 3-5″ of rain will be possible through midweek with the Keys potentially nearing 7″.
We'll continue to monitor all of the tropical activity in the Atlantic. Be sure to follow us on Twitter for the latest information.