Hawaii's Big Island Under Hurricane Warning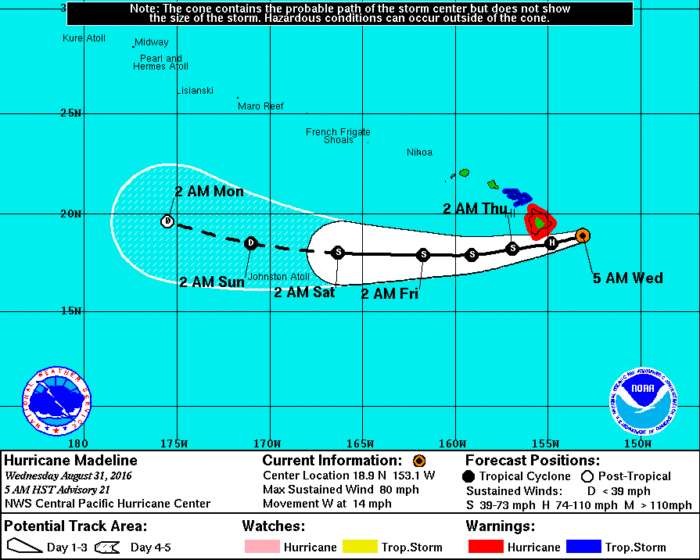 Two different hurricanes churning in the Pacific could potentially impact Hawaii over the next few days. The first, Hurricane Madeline, is expected to pass just south of Big Island later today as a Category 1 hurricane. A Hurricane Warning is in effect for strong winds and high seas. Much of Hawaii will see significant rainfall with most spots on Big Island picking up 5-10″. Some isolated locations in Hawaii County, especially over windward portions, could have rain totals as high as 15″. Flash flooding and mudslides will be possible.
At 5 AM, Madeline's maximum sustained winds were 80 mph with gusts nearing 100 mph. This hurricane is expected to weaken as it moves closer to Hawaii, but some damage, such as power outages and downed trees will still be possible.
Hurricane Lester is sitting a few hundred miles east of Madeline and will continue to push westward over the coming days. Lester could potentially impact Hawaii over the Labor Day holiday weekend.
We'll continue to keep you updated on the very latest as Hurricane Madeline moves closer to Hawaii's Big Island throughout the day. Follow us on Twitter for updates!