Hurricane Matthew to Bring Heavy Rain to Haiti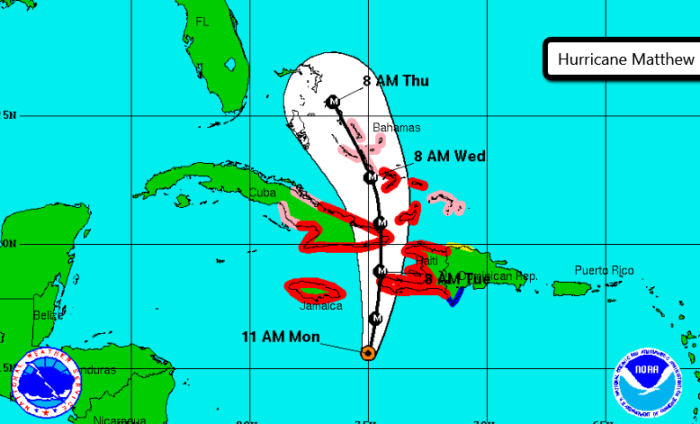 Hurricane Matthew remains a Category 4 hurricane as of the latest NHC update with maximum sustained winds of 140 mph. Matthew continues to slowly push northward at about 6 mph. Hurricane Warnings are still in effect for Jamaica, Haiti, parts of Cuba, and parts of the Bahamas.
As early as tonight, hurricane force winds are expected to reach Haiti, with Cuba and the Bahamas beginning to see winds pick up on Tuesday. Heavy rainfall and storm surge remain the biggest threats for Haiti as Matthew approaches. Southern Haiti will pick up anywhere from 15-25″ of rainfall with some isolated spots getting nearly 40″. These amounts of rain could prove catastrophic as flash flooding and mudslides are likely. Surge related flooding is also possible as storm surge levels could reach 7 to 10 feet.
We will continue to monitor Matthew as it moves northward throughout the day. Stay tuned for the latest. Follow us on Twitter for updates.